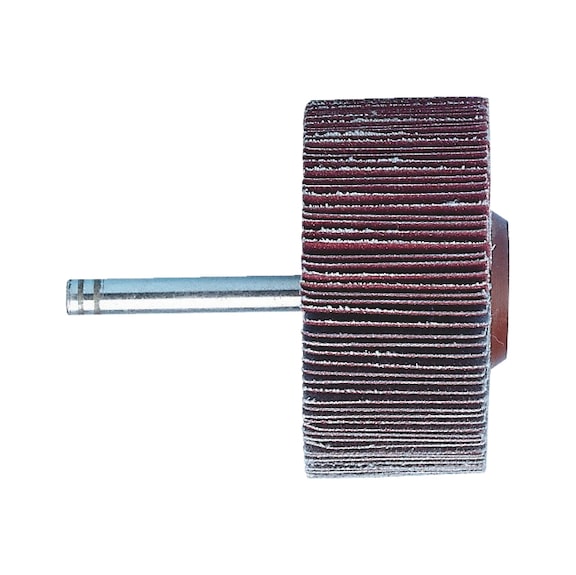 Emery cloth wheel
FLPWHL-G60-30X15X6
Prices for customers after login
Exclusively for trade customers
Register now and access more than 125,000 products
Call customer service: +632 584 4619
Made of soft, flexible grinding cloth segments for a shoulder-free, uniform finish.
Mixed corundum made from synthetic and specially fused corundum


Abrasive flaps in a synthetic resin core, embedded radial to the axis


Especially suitable for surface smoothing and fine polishing
Notice
At high rotation speeds a coarse grain acts like a finer grain and at low rotation speeds a fine grain acts like a coarser one. Use tools with a low contact pressure; high contact pressure leads to premature wear. With insufficient chip removal, do not increase the contact pressure, but instead use a coarser grain. Pay attention to the direction of rotation! Tools are only suitable for clockwise rotation.
Application area
Fine sanding and polishing work in tool and mould construction, working smaller and hard-to-reach surfaces in container and apparatus construction, treating fittings made of heavy and light metals as well as stainless and acid-resistant steels.
Forged steel, malleable iron, grey cast iron, carbon steel, deep drawing steel, steel strip, injection-moulded zinc, non-ferrous metals, Cr-Ni and other stainless steels, wood
Diameter x width x shaft diameter

30 x 15 x 6 mm

Grid size

60

Min./max. circumferential speed

20-28 m/s

Material of abrasive medium

Normal corundum

Material to be processed

Forged steel
Malleable cast iron
Grey cast iron
C-steel
Deep-drawn steel
Steels bands
Injection-moulded zinc
Non-ferrous metal
Cr-Ni and other stainless steels
Wood
Art.-no.
Plus disposal costs -,-- per
Cust. Mat. No.