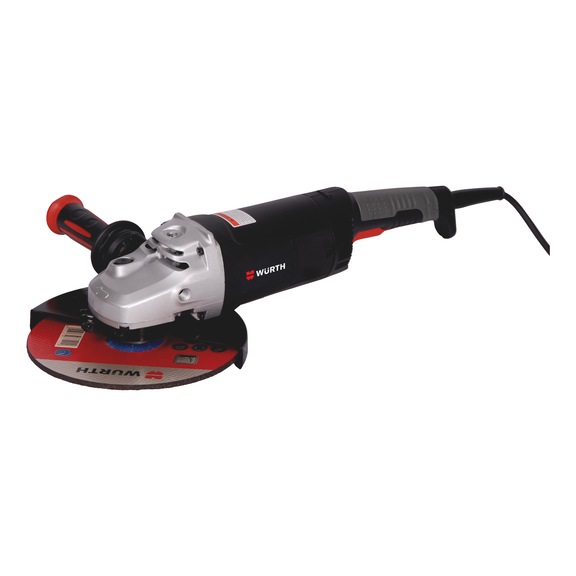 ANGLE GRINDER EWS 20-180-classic
Two-hand angle grinder EWS 20-180-Classic
ANGLGRIND-EL-(EWS 20-180-CLASSIC)-2000W
MASTER
Prices for customers after login
Exclusively for trade customers
Register now and access more than 125,000 products
Call customer service: +632 584 4619
2000-watt angle grinder for disks with max. 180 mm diameter.
Handle can be placed in three different positions
Optimum for both grinding and cutting
Large spindle lock-up push button
For an easier change of grinding wheels
Automatic cut-off carbon brushes
Protects the motor and ensure a longer service life
Rubber grip handle
Ensures great comfort in the course of operation
Anti-vibration side handle
Providing uncompromising user comfort for extended periods of work
High level of user protection
High quality protective hood
Certificates/ Documents

| | |
| --- | --- |
| Nominal voltage | 230 V/AC |
| Frequency | 50 Hz |
| Protection class | Protection class II/protective insulation |
| Power input | 2000 W |
| Power output | 1350 W |
| Max. idle speed | 8500 rpm |
| Max. cutting disc diameter. | 180 mm |
| Thread type x spindle-thread diameter | M14 |
| Weight of machine | 4.3 kg |
| Cable length | 2.5 m |
ANGLE GRINDER EWS 20-180-classic including:



1 x
Handle
SP-AUXILIARY HANDLE

1 x
Protective hood
SP-GUARD CAP
Packaging unit
The packaging unit defines the number of articles in one packaging. In the catalog segment you can choose from different packaging units if a pop-up menu is displayed.
Just leave the field empty if you don't know the packaging unit when directly entering the article number in the shopping basket or when importing with Easy-/VarioScan. The packaging unit will be determined automatically.
Structure of our article number
The article number is made up of the following: VVVVAAABBB
VVVV = 4 digits for prefix number (please note that the first digit is currently always 0)
AAA = 3 digits for dimension part 1
BBB = 3 digits for dimension part 2
Example article number structures:
Example 1: Screw with dimensions of 4x10 mm:
VVVVAAABBB
00574 10 (2 spaces between the 4 and the 10)
Example 2: Screw with dimensions of 10x20 mm:
VVVVAAABBB
005710 20 (1 space between the 10 and the 20)
Example 3: Flat washer with an internal diameter of 6 mm:
VVVVAAABBB
04076
Information on price display
Price per packaging unit (PU):
The displayed price is always in line with the displayed packaging, if the PU is 250 the price for 250 units, if the PU is 300 the price for 300 units.
Price with price key representation (PSL):
The price always applies to a quantity ruled through the price key:
Price for 1 unit
Price for 100 units
Price for 1000 units
Quantity
The quantity shows the number of pieces or units of measure contained in the order or delivery for the respective article.
In contrast to sales packaging and secondary packaging, the disposal costs for chemical-technical products are shown separately. The breakdown of the individual costs can be found on the relevant products and also in the shopping cart, as well as in our
General Terms and Conditions (GTC)
.
Art.-no.

Plus disposal costs -,-- per selected packing unit
Cust. Mat. No.
Certificates/ Documents