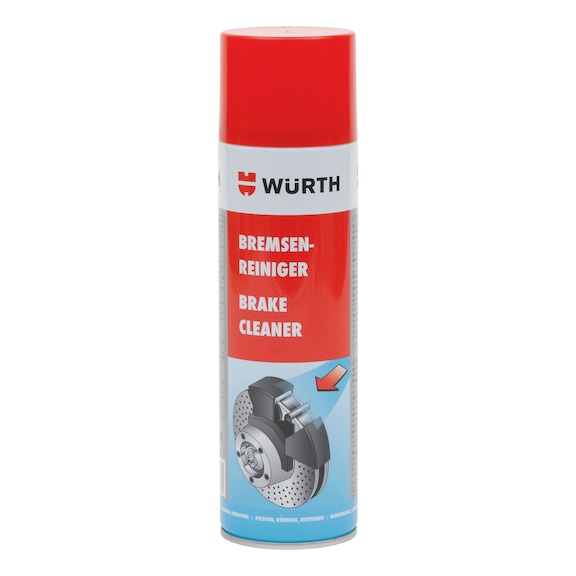 Brake cleaner
BRKCLNR-500ML
Prices for customers after login
Exclusively for trade customers
Register now and access more than 125,000 products
Call customer service: +632 584 4619
For cleaning and degreasing during maintenance and repair work
Fast flash-off behaviour and excellent cleaning performance
Fast and effective removal of soot, grease, brake dust and oily residues


Residue-free cleaning
Acetone-free
High degree of material compatibility with paints, plastics, seals and rubber
AOX- and silicone-free
Notice
Do not spray on hot components. Not suitable for surface cleaning of adhesive areas. Prior to application, the compatibility of rubber or plastic parts and painted surfaces should be tested on an invisible area.
The usage instructions are recommendations based on the tests we have conducted and our experience; carry out your own tests before each application. Due to the large number of applications and storage and processing conditions, we do not assume any liability for a specific application result. Insofar as our free customer service provides technical information or acts as an advisory service, no responsibility is assumed by this service except where the advice or information given falls within the scope of our specified, contractually agreed service or the advisor was acting deliberately. We guarantee consistent quality of our products. We reserve the right to make technical changes and further develop products.
Certificates/ Documents

Application area
For quickly removing oily/greasy residues, soot, brake dust on vehicles, disc and drum brakes, engine and gearbox housings etc.
Instructions
Spray the surfaces to be cleaned and wipe with a clean cloth. Repeat the process for heavy soiling.
| | |
| --- | --- |
| Contents | 500 ml |
| Container | Aerosol can |
| Smell/fragrance | Solvent-like |
| Colour | Colourless |
| Chemical basis | Naphtha |
| Density/conditions | 0.715 g/cm³ / at 20°C |
| Shelf life from production | 24 Month |
| AOX-free | Yes |
| Silicone-free | Yes |
Select RAL-colour code
!! NOTE: On-screen visualisation of the colour differs from real colour shade!!
Art.-no.

Plus disposal costs -,-- per selected packing unit
Cust. Mat. No.
Certificates/ Documents