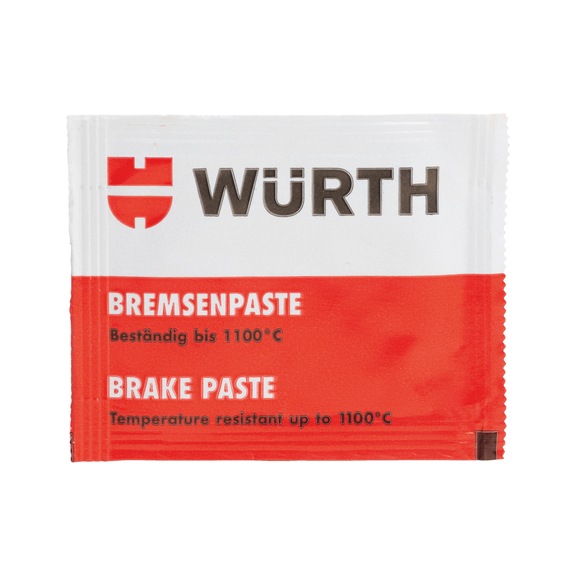 Brake protection paste 5.5 g
BRKPAST-SACHET-5,5G
Prices for customers after login
Exclusively for trade customers
Register now and access more than 125,000 products
Call customer service: +632 584 4619
Highly pressure-resistant, very adhesive lubricant
Silver-coloured and very adhesive mineral oil-based paste with inorganic thickeners and solid lubricants based on soft metals, which guarantees excellent corrosion protection.
Ensures good sliding properties even under the highest compressive loads


Prevents corrosion, seizing, burning on


Insensitive to high temperatures, this ensures a high level of wear protection and a long-term lubricating effect


Excellent resistance to oxidation and ageing


Free of silicone, MoS2 and lead
Notice
Application temperature as grease paste: -20°C to +160°C
The usage instructions are recommendations based on the tests we have conducted and are based on our experience; carry out your own tests before each application. We do not assume any liability for a specific application result due to the large number of applications and storage and processing conditions. If our free customer service provides technical information or acts as an advisory service, no responsibility is assumed by this service except where the advice or information given falls within the scope of our specified, contractually agreed service or the advisor was acting deliberately. We guarantee consistent quality of our products. We reserve the right to make technical changes and carry out further development.
Certificates/ Documents

Application area
For lubricating heavy-duty plain bearings, especially in the steel/metal material combination. Prevents the seizure of metallic objects such as screw joints, rods, pins and flanges that are exposed to high temperatures, friction corrosion and aggressive media. The product is used as an assembly paste and corrosion protection for disc brake callipers. Has no effect on ABS sensors.
Instructions
Apply the product to the pre-cleaned surface with a spatula, brush or lint-free cloth.
| | |
| --- | --- |
| Weight of content | 5.5 g |
| Container | Display box |
| Colour | Silver coloured |
| Smell/fragrance | Oil |
| Chemical basis | Aluminium-copper |
| Shelf life from production | 36 Month |
| Density | 1.1 g/cm³ |
| Min. flashing point | 200 °C |
| AOX-free | Yes |
Select RAL-colour code
!! NOTE: On-screen visualisation of the colour differs from real colour shade!!
Art.-no.

Plus disposal costs -,-- per selected packing unit
Cust. Mat. No.
Certificates/ Documents