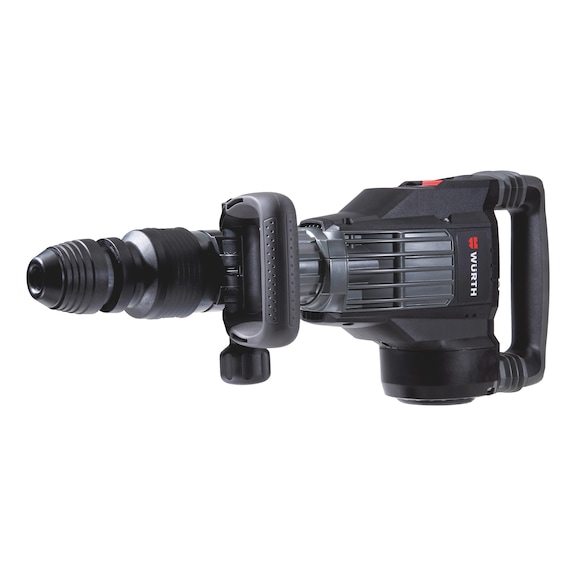 Chipping hammer, MH 11-XE
CHPNGHAM-EL-(MH 11-XE)
MASTER
Prices for customers after login
Exclusively for trade customers
Register now and access more than 125,000 products
Call customer service: +632 584 4619
Powerful and anti-vibration 11-kg chipping hammer with SDS-max drive arbor.
Adjustable impact power
Impact power can be reduced or increased by simply turning the electronic adjusting wheel.
Low-fatigue work
The 12 lockable chisel settings allow adjustment to any working angle.
Rapid drilling progress and extremely smooth running
The anti-vibration system protects the user's joints. Shorter drilling times with high impact power.
Indication of malfunctions
The service LED indicates malfunctions and an imminent carbon brush replacement.
Certificates/ Documents

| | |
| --- | --- |
| Frequency | 50 Hz |
| Protection class | Protection class II/protective insulation |
| Power input | 1700 W |
| Power output | 920 W |
| Min./max. impact rate | 900-1700 rpm |
| Tool holding device | Suitable for SDS-max |
| Max. impact energy | 23 J |
| Impact energy | 23 J |
| Removal performance | 1100 kg/h |
| Length x height | 680 x 240 mm |
| Adjustable chisel position | 12-fold; 30° |
| Weight of machine | 11.4 kg |
| Cable length | 4 m |
Chipping hammer MH 11-XE including:

1 x
Flat chisel with SDS-max drive arbor
FLCHIS-MAX-L400-W25MM
Description:

Round shaft for general demolition and break-through work

1 x
Handle
SP-AUXILIARY HANDLE

1 x
Maintenance spray
MAINTSPR-CONCENTRATE-100ML
Description:

For lubricating hinges, tool mounts and machine mounts

1 x
Empty case for MH 11-XE demolition hammer
CASE-EMPTY-(MH11-XE)-F.07025721
Packaging unit
The packaging unit defines the number of articles in one packaging. In the catalog segment you can choose from different packaging units if a pop-up menu is displayed.
Just leave the field empty if you don't know the packaging unit when directly entering the article number in the shopping basket or when importing with Easy-/VarioScan. The packaging unit will be determined automatically.
Structure of our article number
The article number is made up of the following: VVVVAAABBB
VVVV = 4 digits for prefix number (please note that the first digit is currently always 0)
AAA = 3 digits for dimension part 1
BBB = 3 digits for dimension part 2
Example article number structures:
Example 1: Screw with dimensions of 4x10 mm:
VVVVAAABBB
00574 10 (2 spaces between the 4 and the 10)
Example 2: Screw with dimensions of 10x20 mm:
VVVVAAABBB
005710 20 (1 space between the 10 and the 20)
Example 3: Flat washer with an internal diameter of 6 mm:
VVVVAAABBB
04076
Information on price display
Price per packaging unit (PU):
The displayed price is always in line with the displayed packaging, if the PU is 250 the price for 250 units, if the PU is 300 the price for 300 units.
Price with price key representation (PSL):
The price always applies to a quantity ruled through the price key:
Price for 1 unit
Price for 100 units
Price for 1000 units
Quantity
The quantity shows the number of pieces or units of measure contained in the order or delivery for the respective article.
In contrast to sales packaging and secondary packaging, the disposal costs for chemical-technical products are shown separately. The breakdown of the individual costs can be found on the relevant products and also in the shopping cart, as well as in our
General Terms and Conditions (GTC)
.
Select RAL-colour code
!! NOTE: On-screen visualisation of the colour differs from real colour shade!!
Art.-no.

Plus disposal costs -,-- per selected packing unit
Cust. Mat. No.
Certificates/ Documents