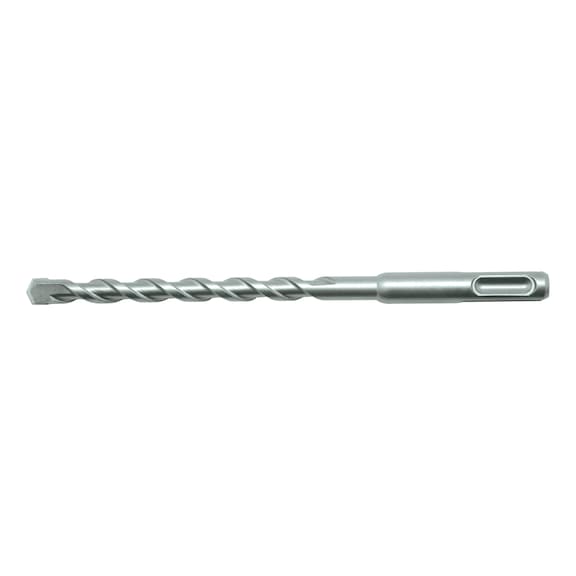 2-CUTTER SDS-PLUS HAMMER DRILL BITS Red Line
Hammer drill bit Plus Red Line
DRL-HAM-PLUS-D12,0-L210-WL150MM
RED LINE
Prices for customers after login

Exclusively for trade customers
Register now and access more than 125,000 products
Call customer service: +632 584 4619
Ideal for through-hole applications in bricks, mortar, concrete blocks and poured concrete without rebar (steel reinforcement)
SDS-Plus shaft
Two round grooves for axial fixation and two wedge grooves for an optimal torque transferring. Suitable for electric hammers up to 5Kg.
Superior drilling properties
Delivers a good hole geometry for the further utilization of mechanical anchors that demand a quite precise and smooth drilled diameter.
Enables smooth drilling
The tungsten carbide tip smoothly diverts the drilling dust away from the tip and ensures optimum drilling progress.
Increased durability
The strengthened carbide element with reinforcement phases ensures increased durability.
High resistance to breakage
Core reinforcement of the drill bit helix makes this possible.
2-flute U-shape flute design
Provides effective dust removal and standard lifetime
Precise drilling properties
Delivers a very good hole geometry for the further utilization of dowels and anchors.
Notice
Iron reinforcements may only be drilled through with permission from structural engineer


With long drill bit lengths, predrill with short drill bit of same diameter!
Certificates/ Documents

Application area
Masonry:
Through-hole in concrete and bricks, being highly suitable for the settling rebar, threaded rods and chemical anchors.
Plumbing:
For general fixing of Water, Gas, Air Conditioning pipes on concrete walls and ceilings.
Electrical Installation:
Electrical boards and electric conduit settling
Doors/Windows:
Wood and aluminum frames positioning
Carpentry:
On the wall fixture of furniture by using of plastic dowels and bolts.
Metalworking:
Auitable for the after-production process of drilling holes for the installation of steel / stainless steel handrails, staircases and so on.
| | |
| --- | --- |
| Diameter (Ø) | 12 mm |
| Length | 210 mm |
| Working length | 150 mm |
| Number of cutting edges | 2 PCS |
| Tool holding device | Suitable for SDS-plus |
Art.-no.

Plus disposal costs -,-- per selected packing unit
Cust. Mat. No.
Certificates/ Documents