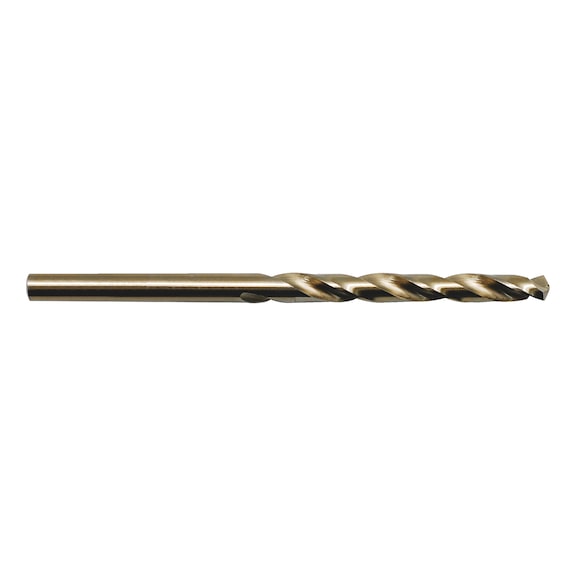 Twist Drill bit HSCO DIN 338 TYPE RN
Twist dr. bit HSCo DIN 338 type RN bronze Red Line
DRL-TWST-MET-DIN338-HSCO-D8,0MM
RED LINE
Prices for customers after login
Exclusively for trade customers
Register now and access more than 125,000 products
Call customer service: +632 584 4619



The affordable, robust assembly drill for quick working in stainless steel and heat-resistant steels, general, broad applications in steel up to 1,000 N/mm² strength and cast iron.
Quick drilling
Web thinning ensure less friction during drilling and therefore less feed force needed


The sturdy point grinding with short designed working length enable quick drilling by using cordless and wired drill at construction site and in assembly


Highly efficient chip removal
Self-centering
The crosswise grinding ensures an excellent centering effect even on domed surfaces, eliminating the need for center-punching or piloting
Good cutting performance
Cutting material HSCo (M35) contains 5% cobalt provides higher heat resistance and hardness for meeting tough requirements
Notice
The drill shank is turned from the 13.0 mm dia. to a 12.7 mm dia.
Product information
Certificates/ Documents

Application area
Steel & Stainless steel
Material to be processed

Stainless steel
Steel

Standard / drilling depth

DIN 338 / 5xD

Diameter (Ø)

8 mm

Length (l1)

117 mm

Chip flute length (l2)

75 mm

Shank style

Cylindrical

Surface

Vaporised

Cutting material

HSCo

Angle of the tip

130 Degree

Service life (points system)

3 of 4 points

Drilling speed (point system)

2 of 4 points

Bore hole quality (point system) ( )

2 of 4 points

Versatility (points system)

3 of 4 points

Drilling behaviour (point system)

3 of 4 points

Suitable for drill (points system)

2 of 4 points

Suitable for cordless drills (points system)

2 of 4 points

Suitable for upright drilling machine (points system)

1 of 4 points

Self-centring

Yes
Select RAL-colour code
!! NOTE: On-screen visualisation of the colour differs from real colour shade!!
Art.-no.
Plus disposal costs -,-- per selected packing unit
Cust. Mat. No.
Certificates/ Documents